Traditional Veggie Shepherd's Pie
Traditional Veggie Shepherd's Pie
Hearty, comforting and seriously satisfying vegan shepherd's pie.
A wonderful way to celebrate St Patrick's Day with a traditional dish full of veggies, lentils and fluffy mashed potatoes!
This is what you will need for the base: an over proof dish, a frying pan, a large saucepan, over gloves.
2 tins of lentils, 1 tin of tomatoes, one onion, 2-3 carrots, 2 cloves of garlic, olive oil, dried mixed herbs, pepper, 4 cups of vegetable stock, potatoes, dairy free butter and soya milk to taste.
Chop and dice the onion, carrots and garlic.
Pre-heat a frying pan on medium heat with a tablespoon of oil. Put all the chopped onions, garlic and carrots together and dried mixed herbs, then cook gently for approximately 10 minutes until lightly golden.
Main filling
Depending on the filling you want, you could add in some Quorn mince or keep to the lentil filling (below).
Add in one tin of tinned tomatoes and 2 tins of drained lentils into a pan, pour in the vegetable stock and in the mixed herbs then stir. Let the mixture cook on low for approximately 40 minutes occasionally stirring. To complete the filling, after cooking for 30 minutes' pour in the fried onions, garlic and carrots then mix and continue cooking for another 10 minutes.
When the filling is ready, pour into an over proof dish and loosely cover in preparation for the mash.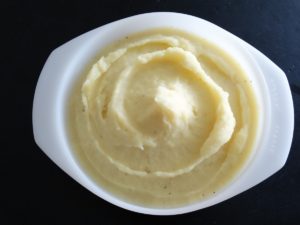 Potatoes
For fluffy mashed potatoes chop them into a large pan and cook for approximately 10 -20 minutes until tender (need to be able to put a fork in them and they are soft).
When cool set aside and then drain the water in preparation.
Time to mash the potatoes!
Pour the cooked potatoes into a bowl and add in a couple of tablespoons of dairy-free butter and add some pepper and a teaspoon of soya milk. Fold gently together for fluffy potatoes. Use a potato masher and crush the potatoes.
Layering
Get the filling (in the oven proof dish), then scoop the mash carefully over the whole filling mixture. Completely cover with the potato so you have two separate layers. Then gently brush the top of the mash with
Completely cover with the potato so you have two separate layers. Then gently brush the top of the mash with soya milk and use a fork to create lines across the dish for final detail. Then place in a pre-heated over (425 degrees) for about 10-20 minutes until the dish is golden brown on the top. Keep a check on the dish until it's golden on the top.
When cooked, let the pie cool briefly before serving. Leave it settle to help thicken. Or let it cool down completely before covering, then store in the fridge. You can reheat in a microwave.

Join our mailing list for up to date news about our work